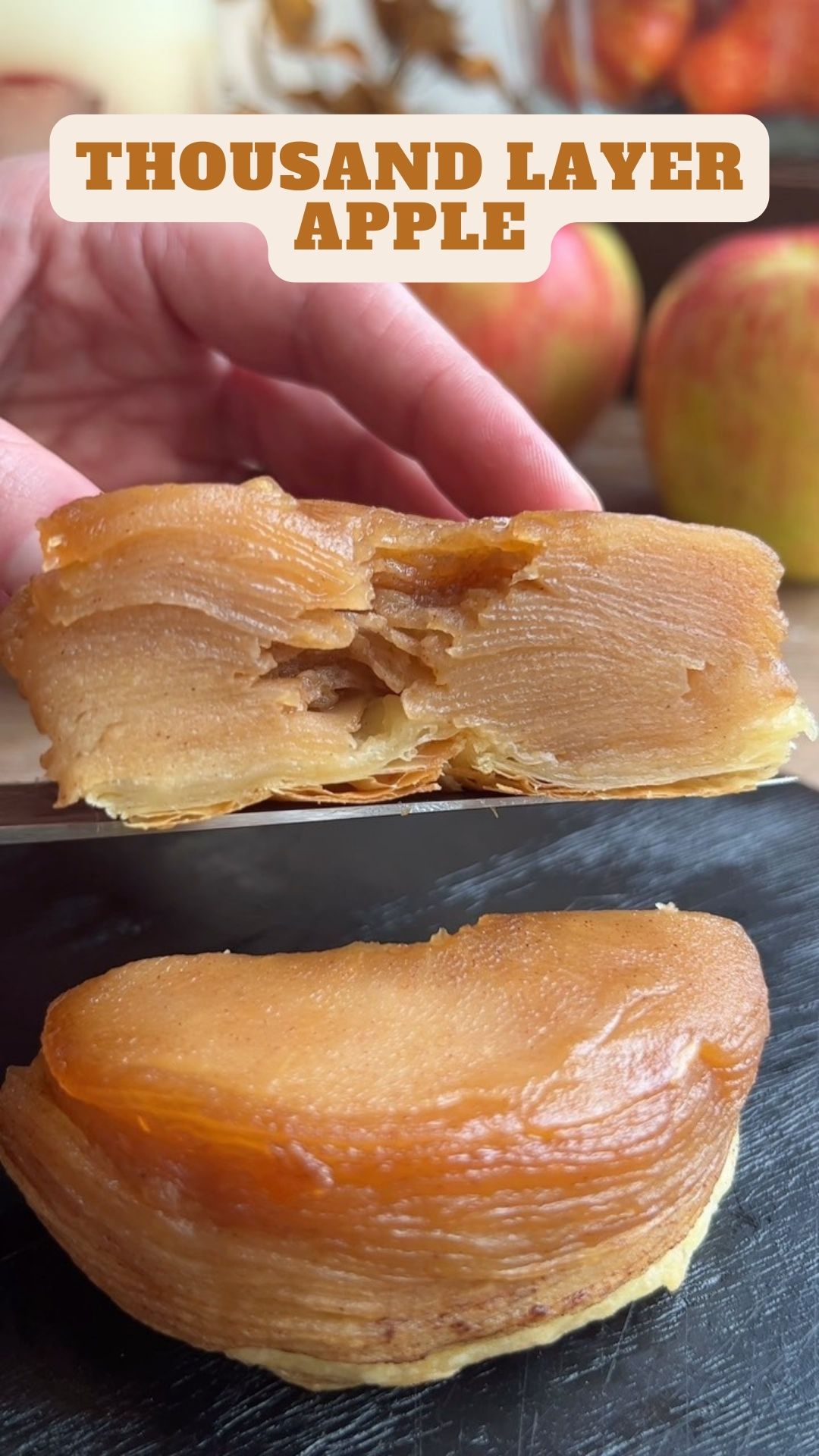 Get ready to experience a delicious twist on the classic potato creation – this time with apples and a mouthwatering brown sugar cinnamon butter blend. Trust me, it's AMAZING!
Trying to put the taste into words is a challenge because it's unlike anything I've ever had. The apple layers become incredibly soft, yet each layer maintains its unique texture when you take a bite. Picture a mille crepe cake, but with a creamier consistency, and the tartness of the apple truly stands out!
For an extra burst of flavor, top it off with a scoop of vanilla ice cream and drizzle some caramel sauce.
Thousand Layer Apple
Ingredients
1

large honeycrisp apple

3-4

tbsp

melted butter

1

tbsp

dark brown sugar

1

teaspoon

cinnamon

Puff pastry
Instructions
Peel and core the honeycrisp apple, then slice it into thin 1/16" slices using a knife or mandoline (check out the one we used on our Amazon page).

Mix melted butter, sugar, and cinnamon in a medium bowl. Coat each apple slice with this mixture and stack them in a ramekin until you reach the top. Press down on the layers a few times while stacking and pour out any excess liquid.

Once your ramekin is filled, pop it into a 400˚F oven for 10 minutes. After that, carefully remove excess liquid and crown your stack with a piece of puff pastry brushed with egg wash. Back into the oven for another 20 minutes.

For the best results, let it cool completely before serving. Gently release your creation from the ramekin with a butter knife, flip it upside down, and serve it with a generous scoop of ice cream. Enjoy!