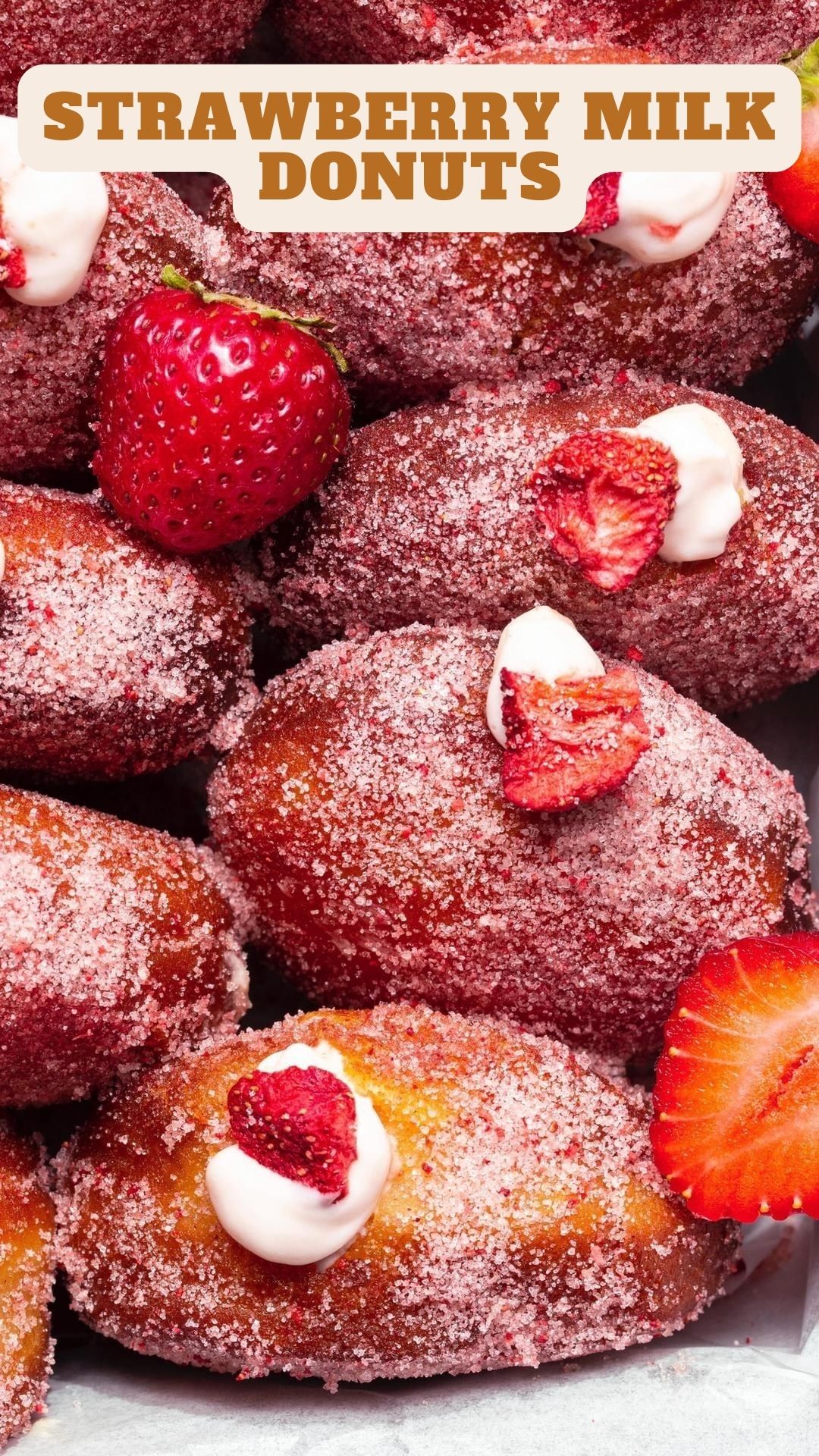 Indulge in these delightful, fluffy donuts that'll transport you straight back to childhood memories. The sweet and tangy kick comes from strawberry milk powder, bringing a burst of flavor to a classic egg custard filling made with Eggland's Best eggs and lightened with whipped cream.
If you haven't tried making fruity sugar yet, now's the perfect time! You can easily find freeze-dried berries in stores or online, adding flavor without the extra liquid to your baking recipes.
Strawberry Milk Donuts
Ingredients
Strawberry Milk Filling:
1 1/2

cups

whole milk

1

Eggland's Best egg

at room temperature

1/4

cup

cornstarch

1/3

cup

strawberry milk powder

like Nesquik

1/4

cup

sugar

2

tablespoons

unsalted butter

3/4

cup

heavy cream
Dough:
3

tablespoons

active dry yeast

1

cup

warm milk

100°F

1/2

cup

plus 1 tablespoon sugar

1/2

teaspoon

baking powder

2

teaspoons

salt

4

cups

bread flour

plus more for rolling

1/4

cup

½ stick unsalted butter, softened

3

Eggland's Best egg yolks

at room temperature

1/2

teaspoon

vanilla extract

Safflower or canola oil

for frying

Strawberry sugar

for rolling
Strawberry Sugar:
1/2

cup

granulated sugar

1/4

cup

ground freeze-dried strawberries
Instructions
Making the Filling:
Combine strawberry milk powder, cornstarch, and egg in a bowl. Whisk until fluffy. Warm whole milk and sugar, then mix into the egg mixture. Strain back into the pot, heat until thickened, and add butter. Cool, cover, and refrigerate.
Making the Dough:
Mix yeast, warm milk, and sugar. Combine with dry ingredients, butter, egg yolks, and vanilla. Knead into a ball, refrigerate overnight.
Frying the Donuts:
Bring dough to room temperature. Roll into a 9×13 inch rectangle, cut out 3-inch rounds. Allow to proof, then fry in oil at 365°F. Toss in strawberry sugar while warm.
Filling the Donuts:
Whip heavy cream to medium-soft peaks. Smooth out pastry cream, fold in the cream, and fill a pastry bag. Poke a hole in each donut, fill with the creamy mixture.

Serve immediately and enjoy your homemade strawberry-filled donuts!