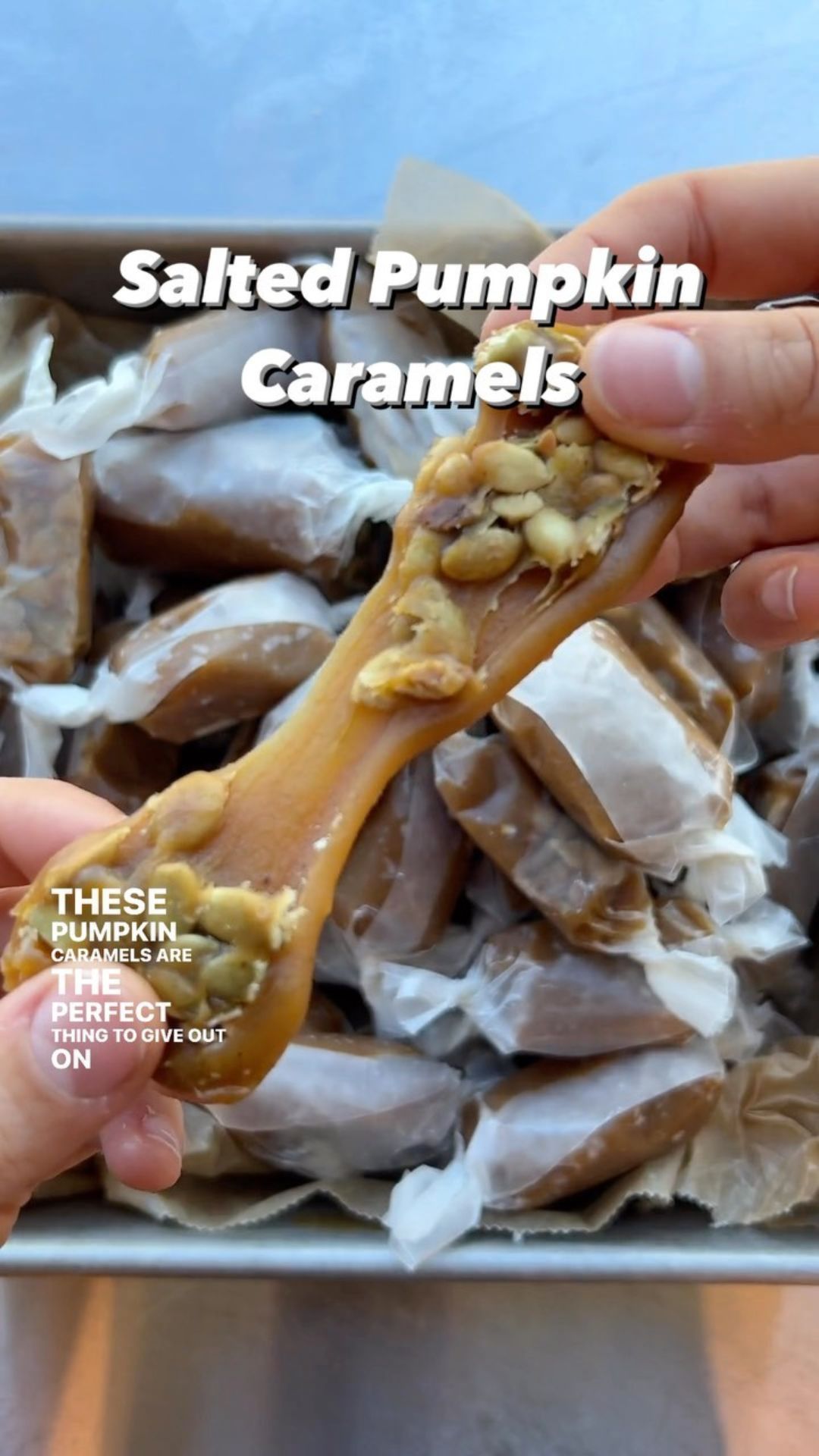 Indulge in the flavors of fall with these delightful homemade caramels! Imagine the warm essence of autumn in every chewy bite, with the earthy goodness of pumpkin and a hint of spice. The sweetness is perfectly balanced by a touch of cream, while a delicate crunch of fleur de sel adds a clever twist. And let's not forget the addictive toasted pepitas that crown each caramel, giving them a beautifully lacquered, dusty green cap.
Salted Pumpkin Caramels
Ingredients
2/3

cup

unsalted pepitas

1 1/2

cups

heavy cream

2/3

cup

pumpkin puree

1

teaspoon

pumpkin pie spice

2

cups

white sugar

1/2

cup

light corn syrup

1/3

cup

good maple syrup

1/4

cup

water

4

tablespoons

unsalted butter

cut into chunks

1

teaspoon

lemon juice

3/4

teaspoon

fleur de sel
Instructions
Start by dry toasting the pepitas in a skillet until they begin to pop.

Line the bottom and sides of an 8-inch square glass pan with parchment paper. Butter the parchment on the sides of the pan, and evenly spread out the toasted pepitas on the bottom of the pan, on top of the parchment.

In a saucepan, warm up the heavy cream, pumpkin puree, and spices. Make sure it's warm, but not boiling, and set it aside.

In another heavy-bottomed pan, combine the sugar, both syrups, and water. Stir until the sugars are melted, then let it boil until it reaches 244 degrees Fahrenheit (soft ball stage on a candy thermometer). Carefully add the cream and pumpkin mixture, and slowly bring this mixture to 240 degrees Fahrenheit. Be patient; this step might take around 30 minutes. Keep a close eye on it, stir frequently to prevent burning at the bottom of the pan.

Once it reaches 240 degrees Fahrenheit, remove it from the heat and stir in the butter and lemon juice. Stir vigorously to fully incorporate the butter.

Pour the mixture into the prepared pan. Let it cool for 30 minutes, then sprinkle the fleur de sel over the top. Allow the caramels to set completely, which usually takes at least 2 hours.

Once set, use a hot knife to cut the caramels into 1-inch squares. Wrap each piece individually in waxed paper, and enjoy your homemade autumn treats!