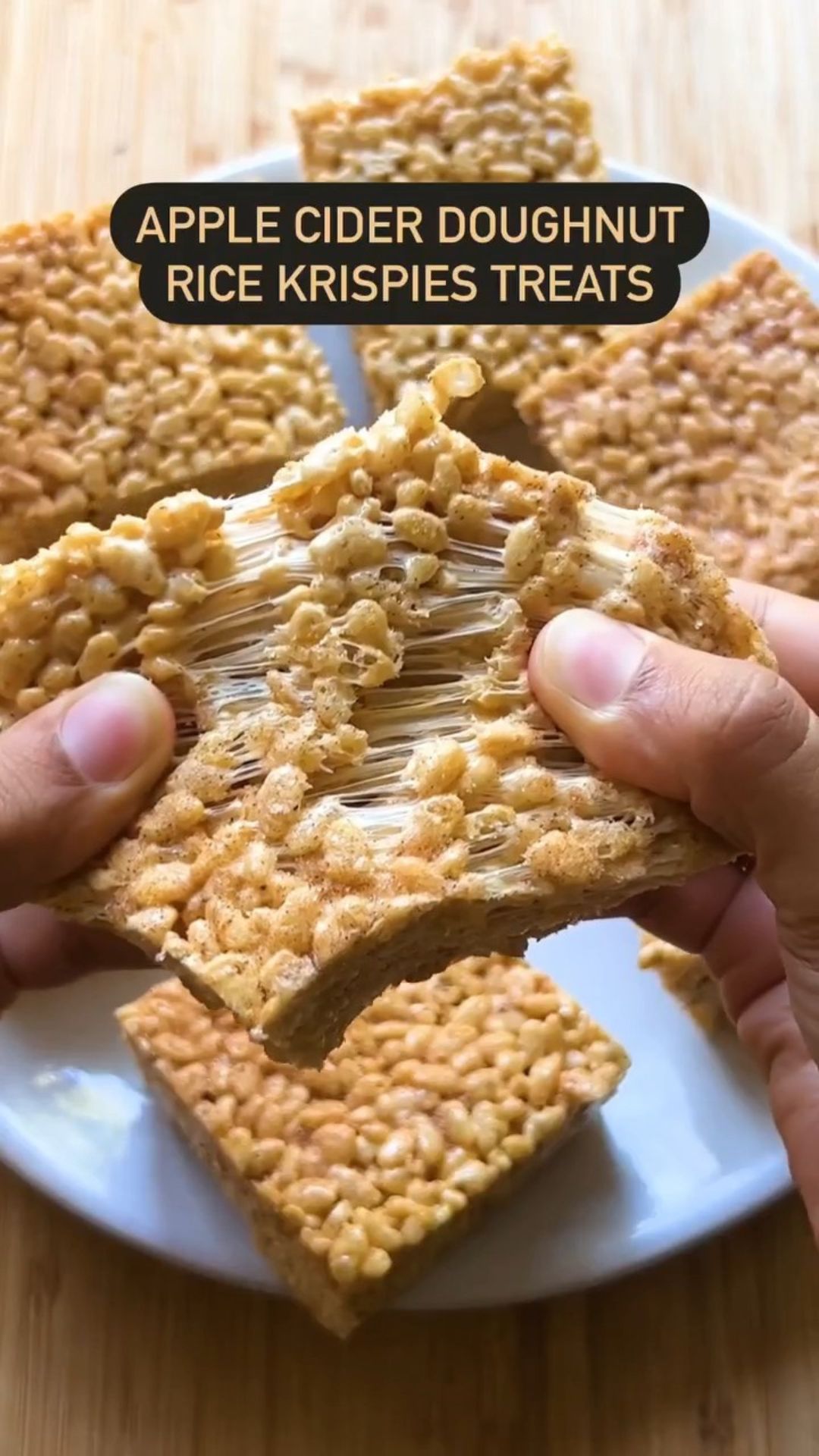 Imagine biting into a Rice Krispies treat that tastes just like warm apple cider doughnuts! These treats may seem ordinary, but they're bursting with the flavors of tart apple cider and cinnamon sugar, taking you straight to an apple orchard with every bite. We're combining the goodness of classic Rice Krispies treats with the delightful essence of freshly made apple cider doughnuts, creating a cozy childhood favorite with a seasonal twist.
To capture that perfect fall flavor, we start by transforming apple cider into a rich, gooey caramel. Simply simmer two cups of apple cider or unfiltered apple juice with brown butter until it thickens into a caramel-like sauce. It takes a bit of time, but you can multitask while it cooks down. In about 20 minutes, you'll have a golden caramel sauce that fills your home with the heavenly scent of apples. Mix in marshmallows and puffed rice cereal until everything turns into a sticky, golden delight.
If you want an extra dose of apple cider doughnut goodness, sprinkle some cinnamon sugar on top. It adds a warm, festive touch! Let the bars set for about an hour, and voila! You have the perfect treat that captures the essence of autumn. Don't resist the temptation to sneak a bite while it's still warm for the ultimate apple cider doughnut experience.
Apple Cider Doughnut Rice Krispies Treats
Ingredients
1/2

cup

unsalted butter

plus extra for greasing

2

cups

apple cider or unfiltered apple juice

1

tablespoon

granulated sugar

1

teaspoon

ground cinnamon

2

bags mini marshmallows

10 ounces each, divided (about 11 cups total)

1/4

teaspoon

kosher salt

1

box rice cereal

like Rice Krispies (12 ounces, about 10 cups)

Nonstick cooking spray
Instructions
Melt butter in a pot over medium heat until it turns light amber and smells nutty.

Add apple cider, bring to a boil, and let it reduce into a thick caramel, about 18-20 minutes.

Grease a 9×13-inch baking pan and combine sugar and cinnamon in a small bowl.

Add one bag of marshmallows and salt to the caramel, stir until melted and caramelized.

Remove from heat, add the remaining marshmallows, then mix in rice cereal.

Quickly transfer the mixture to the prepared pan, press it evenly, and sprinkle with cinnamon sugar.

Let it set for at least 1 hour before cutting into delightful squares. Enjoy the taste of fall!