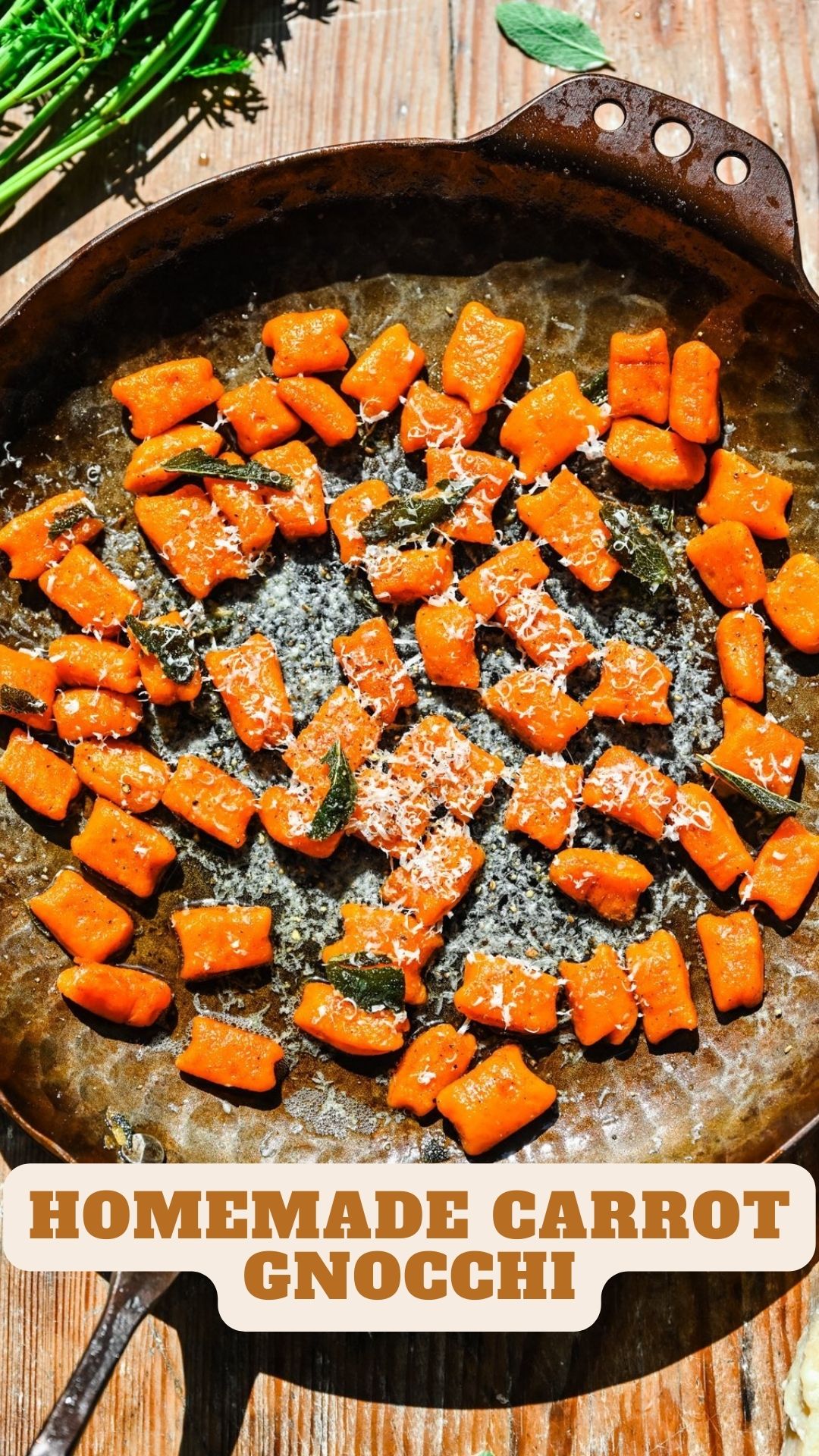 Did you know you can whip up tasty homemade gnocchi using carrots instead of potatoes? It's not only delicious but super easy, requiring just four ingredients: flour, salt, egg, and carrots.
For a crispy twist, we love tossing the gnocchi in a brown butter sage sauce, though it's equally fantastic with carrot top pesto!
Homemade Carrot Gnocchi
Ingredients
1

lb

about 450g carrots

2

cups

about 250g all-purpose flour

1

egg yolk

1

teaspoon

kosher salt
Instructions
Wash, peel, and steam or boil the carrots for 15-25 minutes until they're fork-tender. After draining them completely, pat the carrots dry with a kitchen towel to remove excess moisture.

Mash, rice, or blend the carrots until they're a puree. Allow the steam to evaporate, and wait until the carrots are just warm, not hot. Combine the carrot puree with egg yolk, salt, and flour using a fork, then your hands. Gently knead until the dough comes together. Avoid overworking it, and don't add extra flour—it should be slightly sticky.

Cover the dough and let it rest for 10-30 minutes.

Divide the dough into quarters, then each quarter into quarters for a total of 16 pieces. On a floured surface, roll each piece into a log about 1/2" thick, then cut the gnocchi into 1/2" pieces.

Bring salted water to a simmer or light boil, and cook the gnocchi until they start to float, about 2-3 minutes. Strain 30 seconds after they begin floating.

Serve with your favorite pasta sauce or try this: combine half the batch of gnocchi with 3 tbsp butter and 10 sage leaves. Let the butter brown, then add in the gnocchi, cooking until slightly crispy, around 5-8 minutes.