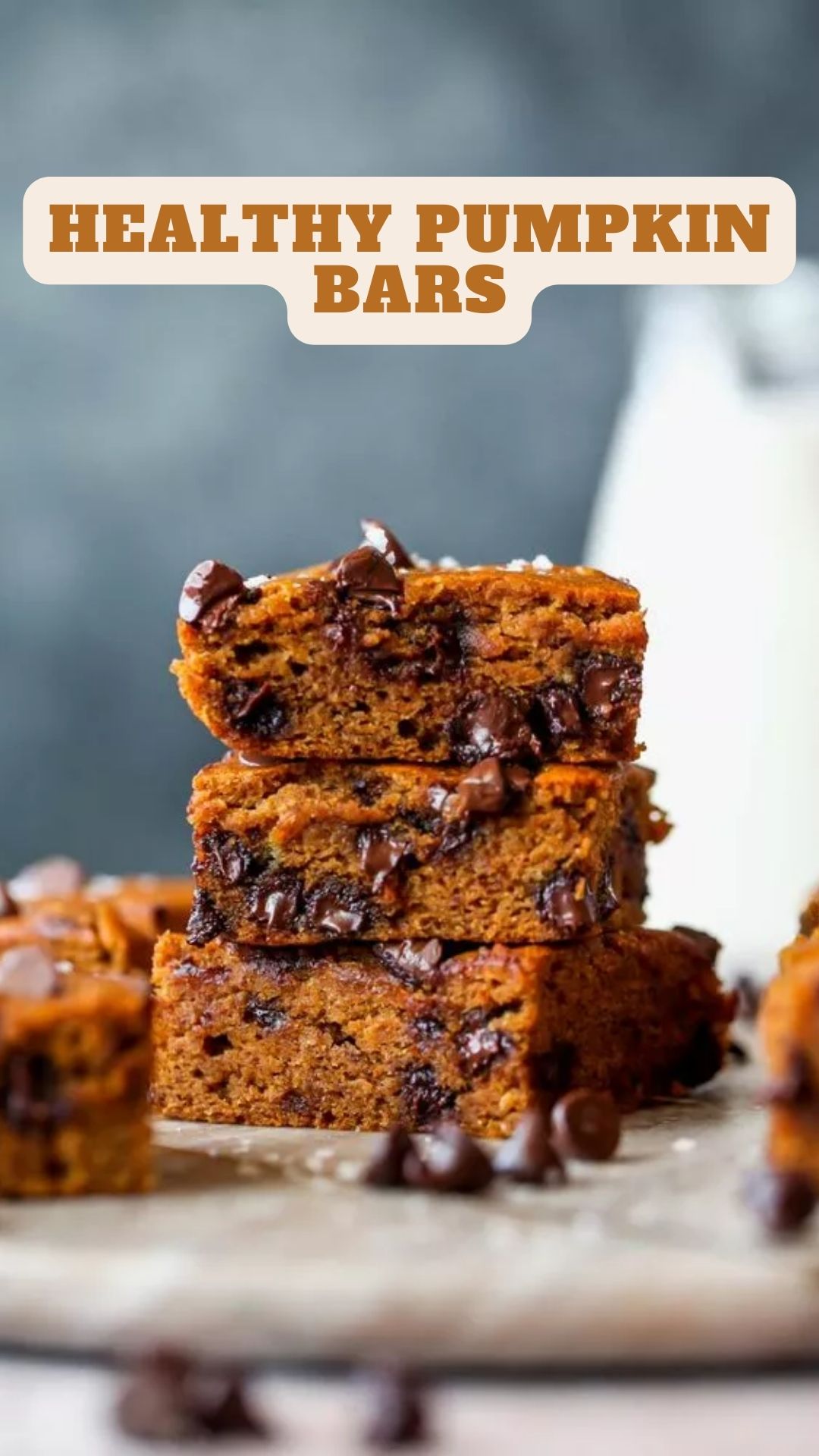 Get ready to fall head over heels for these guilt-free Pumpkin Bars! They're loaded with good-for-you ingredients like pumpkin puree, a hint of maple sweetness, nutty goodness, and a sprinkle of chocolatey joy. These bars are the perfect go-to snack for those cozy autumn days. Making a batch of these delightful treats is as easy as pie – or, in this case, pumpkin pie!
Healthy Pumpkin Bars
Ingredients
½

cup

of pumpkin puree

½

cup

of maple syrup

½

cup

of natural creamy almond butter

just almonds and salt

2

large eggs

½

tsp.

of vanilla extract

½

cup

of blanched almond flour

2

tsp.

of pumpkin pie spice

¼

tsp.

of baking powder

¼

tsp.

of kosher salt

increase to ½ tsp. if using unsalted nut butter

½

cup

of chocolate chips

plus extra for a chocolatey topping
Instructions
Preheat your oven to 350ºF. Line an 8×8-inch baking dish with parchment paper and give it a light spritz of cooking spray.

In a big bowl, mix together pumpkin puree, maple syrup, almond butter, eggs, and vanilla until it's all smooth.

In another smaller bowl, stir together almond flour, pumpkin pie spice, baking powder, and salt.

Combine the dry ingredients into the bowl with the wet ones, stirring until they just come together. Use a rubber spatula to gently fold in the chocolate chips.

Transfer this delightful mixture into the prepared baking dish and sprinkle some extra chocolate chips on top if you're feeling fancy.

Pop the pan into the oven and bake for 30 to 34 minutes, or until a toothpick inserted in the center comes out mostly clean. Let it cool in the pan for 30 minutes. Then, use the parchment paper overhangs to lift the bars out of the pan and let them cool completely before cutting them into 12 squares.
Notes
A couple of helpful notes:
I've tried making these bars with cashew butter and peanut butter, and they both turned out great. However, I personally love the texture and flavor when using almond butter.
When it comes to storage, these healthy pumpkin bars can chill at room temperature for the first 1 to 2 days but should be refrigerated afterward. Due to their high healthy fat content, they're not as room temperature-friendly as bars made with wheat-based flour. After refrigeration, they'll stay good for an extra 4 days. Wrap them up in plastic cling wrap or store them in an airtight container.
If you're thinking long-term, these bars can be frozen for up to 2 months. Slice them up, toss them into a gallon-sized, freezer-safe storage bag, and remove as much air as possible. For the best thawing results, let them sit in the refrigerator for 24 hours.
Now, go ahead and enjoy these delightful Pumpkin Bars guilt-free!