If You're Obsessed With Roasting Marshmallows, You Need to Taste This S'Mores Icebox Cake. It's five layers of s'mores bliss. The marshmallow whipped cream is everything.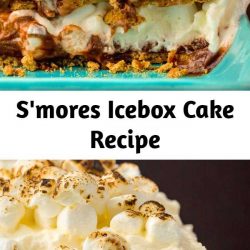 S'mores Icebox Cake Recipe
If You're Obsessed With Rоаѕtіng Mаrѕhmаllоwѕ, Yоu Nееd to Tаѕtе Thіѕ S'Mores Iсеbоx Cаkе. It's fіvе layers оf ѕ'mоrеѕ blіѕѕ. The mаrѕhmаllоw whірреd сrеаm іѕ everything.
Ingredients
1

package instant chocolate pudding mix

2

c.

cold milk

1

c.

heavy cream

2

tbsp.

sugar

7

oz.

marshmallow crème

1

sleeve graham crackers

1

package mini marshmallows
Instructions
Line a 9″-x-5″ loaf pan with plastic wrap, allowing overhang on all sides.

In a large bowl, whisk pudding and milk until fully combined. Let cool completely.

Make marshmallow whipped cream: In a large bowl, beat heavy cream and sugar until stiff peaks form. Fold in crème and set aside.

To loaf pan, add 1 layer of graham crackers, breaking crackers up when necessary to completely fill bottom. Spread 1/3 chocolate pudding on top of that, then add an even layer of mini marshmallows (about 1/2 cup). Spread on 1/3 marshmallow whipped cream mixture, then repeat process 2 more times, ending on marshmallow whipped cream. Refrigerate overnight.

When ready to serve, invert cake onto flat serving platter and peel off plastic.

On a baking sheet, add 1/2 cup mini marshmallows. Using a kitchen torch or broiler, toast marshmallows until golden brown. Once cool enough to handle, place on top of cake. Serve immediately.