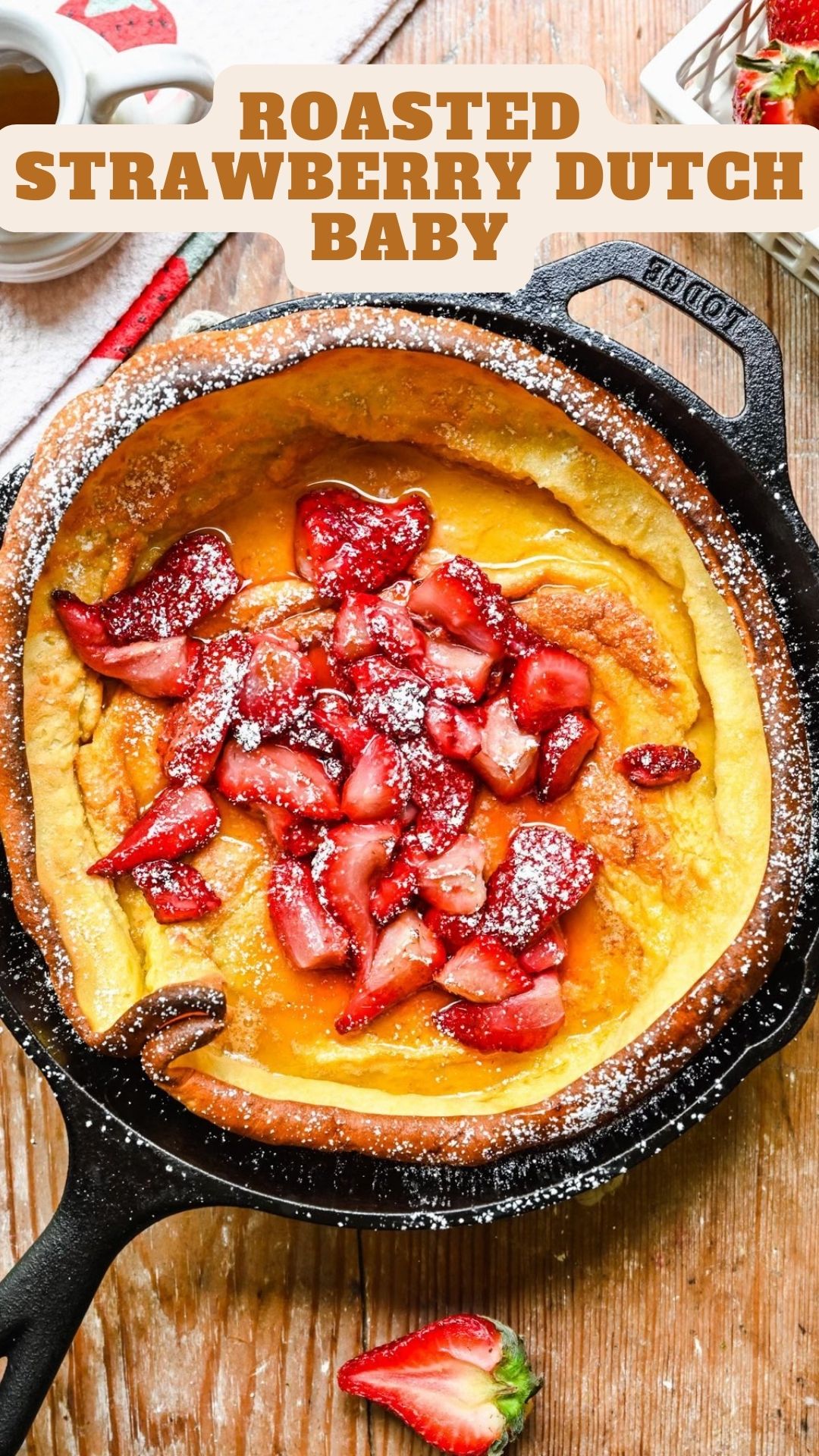 You know, I've got this bold take – Dutch baby pancakes are way cooler than your regular ones! They're a breeze to whip up, and seriously, could breakfast get any more stylish?
Making the batter for Dutch baby pancakes is a cinch. Just toss everything into a blender for a silky smooth mix – no need for extra dishes. And here's the secret: pop your pan in the oven early, so when you add the butter, you get that perfect rise and those tasty crispy edges.
Roasted Strawberry Dutch Baby
Ingredients
Pancake Batter:
– 1/2 cup all-purpose flour

– 1/2 cup milk

at room temperature, and you can go non-dairy

– 2 eggs

also at room temperature

– 2 tbsp granulated sugar

– 1/2 tsp vanilla extract

– 1 tsp lemon zest

– 1/4 tsp salt

– 2 tbsp butter

non-dairy works too
Roasted Strawberries (these are a game-changer, don't skip them!):
– 1 pint strawberries

quartered (about 2 cups)

– 1 tsp lemon zest

– 2 tbsp sugar
Instructions
Preheat your oven to 425°F.

Stick a 9" oven-safe skillet in the oven as it warms up. (We're going old-school with cast iron.)

While the oven does its thing, toss all your pancake ingredients (except the butter) into the blender. Blend until it's as smooth as a jazz tune. Let it chill for 10-20 minutes while the oven finishes heating.

Mix up the strawberries, lemon zest, and sugar, then spread them on a baking sheet.

Once the oven is good to go, toss in the buttered pan and swirl until it's all melty. Pour in the pancake batter pronto. Slide the pan and the strawberries into the oven. Bake for 15-20 minutes, until the edges are big and puffy, the color is golden brown, and the strawberries are all jammy.

Top it all off with strawberries, a drizzle of maple syrup, and maybe a sprinkle of powdered sugar. Dive in and enjoy your effortlessly cool breakfast!