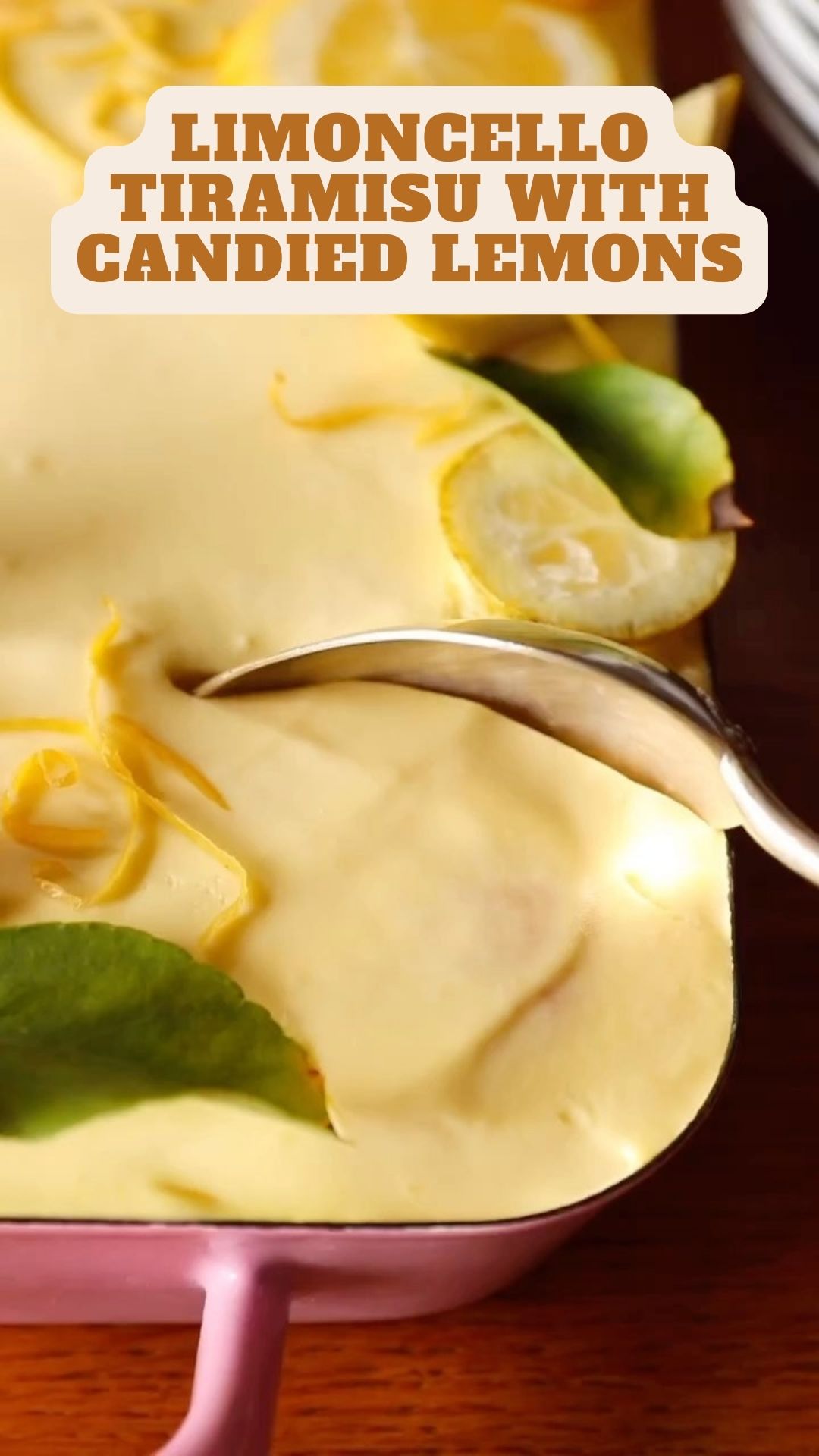 Introducing a delightful Limoncello Tiramisu, adorned with luscious candied lemons! Enjoy this heavenly Limoncello Tiramisu chilled and bursting with citrusy goodness!
Limoncello Tiramisu With Candied Lemons
Ingredients
Candied Lemons:
3-4

lemons

1

cup

water

1

cup

sugar
For the Mascarpone Cream:
2

lemons

14

ounces

mascarpone

1

cup

heavy cream

4

egg yolks

1/3

cup

sugar

3

tablespoons

limoncello

20

ladyfinger cookies
Instructions
Start by making the candied lemons. Slice 4 lemons thinly and briefly boil them in a pot of water for 1 minute. In a saucepan, bring 1 cup of sugar and 1 cup of water to a boil. Add the lemon slices and let them simmer on low heat for 30 to 40 minutes. Drain, cool, and finely chop the candied lemons. Save the syrup.

For the cream, zest 2 lemons and mix the zest with 1/3 cup of sugar. In a bowl, combine the egg yolks with the sugar-zest mixture, whisking until it becomes light. Add the mascarpone and a capful of limoncello, whisking until smooth. Whip the heavy cream until it reaches a soft peak, then gently fold it into the mascarpone mixture.

Create a soaking juice by mixing the juice of 2 lemons, 2 ladles of the reserved candied lemon syrup, and a generous capful of limoncello (adjust to taste). Dip the ladyfinger cookies into the mixture and arrange them at the bottom of your mold. Pour the mascarpone cream over the cookies and smooth it with a spatula. Sprinkle with the chopped candied lemons. Repeat the layers: cookies, cream, candied lemons. Finish with a final layer of cookies and cream. Smooth the top with a spatula. Refrigerate for at least 4 hours or preferably overnight. Before serving, decorate with lemon slices and zest.