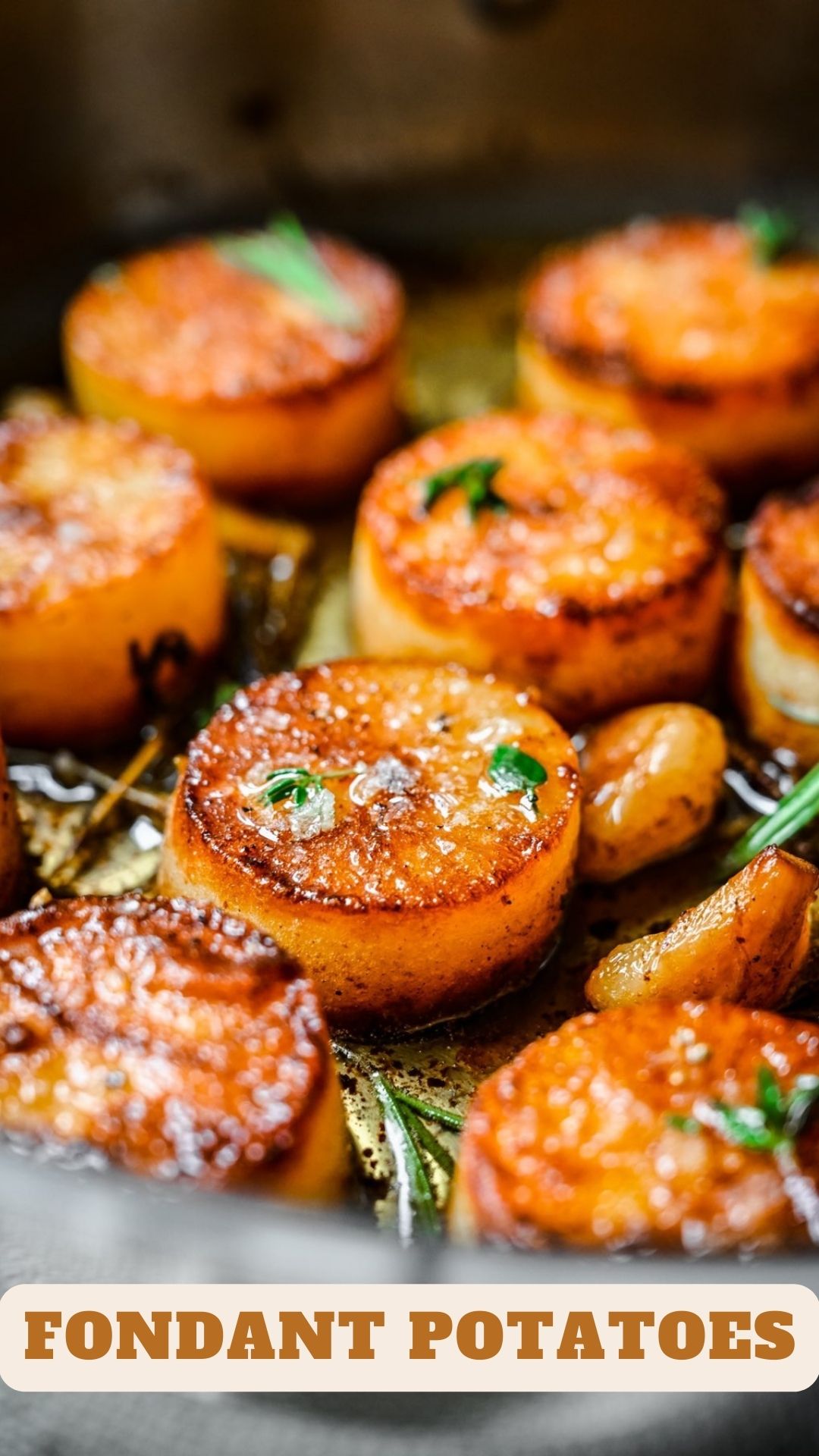 These Fondant Potatoes, also known as melting potatoes, are like a flavor explosion in your mouth! They're a bit fancy, perfect for a special day, and trust me, the deliciousness is totally worth the little extra effort.
Fondant Potatoes
Ingredients
4-5

big Yukon gold potatoes

sliced into 1-inch rounds

Avocado oil

or another oil that can handle high heat

Salt and pepper to your liking

4-6

tablespoons

butter

regular or vegan

8-10

cloves

garlic

4-5

sprigs each of rosemary and thyme

1

cup

vegetable stock
Instructions
Preheat your oven to 425°F.

Slice those potatoes into 1-inch thick rounds. Use a small cookie cutter to make them into even cylinders. (We do this so they cook evenly. Plus, you can use the leftover scraps for breakfast hash or mashed potatoes!)

Soak the potatoes in cold water for 15 minutes, then pat them completely dry.

While they're soaking, heat some avocado oil in a 10-inch All-Clad stainless steel frying pan over medium-high heat. Lower the heat to medium just before adding the potatoes. Cook them for 3-5 minutes on one side until they're golden brown and crispy. Sprinkle some salt on them.

Flip those potatoes, sprinkle some more salt, and cook for another 3-5 minutes until the other side is also golden brown and crispy. Use tongs and a paper towel to soak up as much oil as possible. (Turn off the heat here.)

Turn the heat back to medium and add in butter, garlic, herbs, salt, and pepper. Heat the butter until it's foamy and hot, but don't let it brown. Baste the potatoes with this buttery goodness. Pour in the vegetable stock, take it off the stove, and pop it in the preheated oven for 15-20 minutes until the insides are perfectly tender. Then, dig in and enjoy!