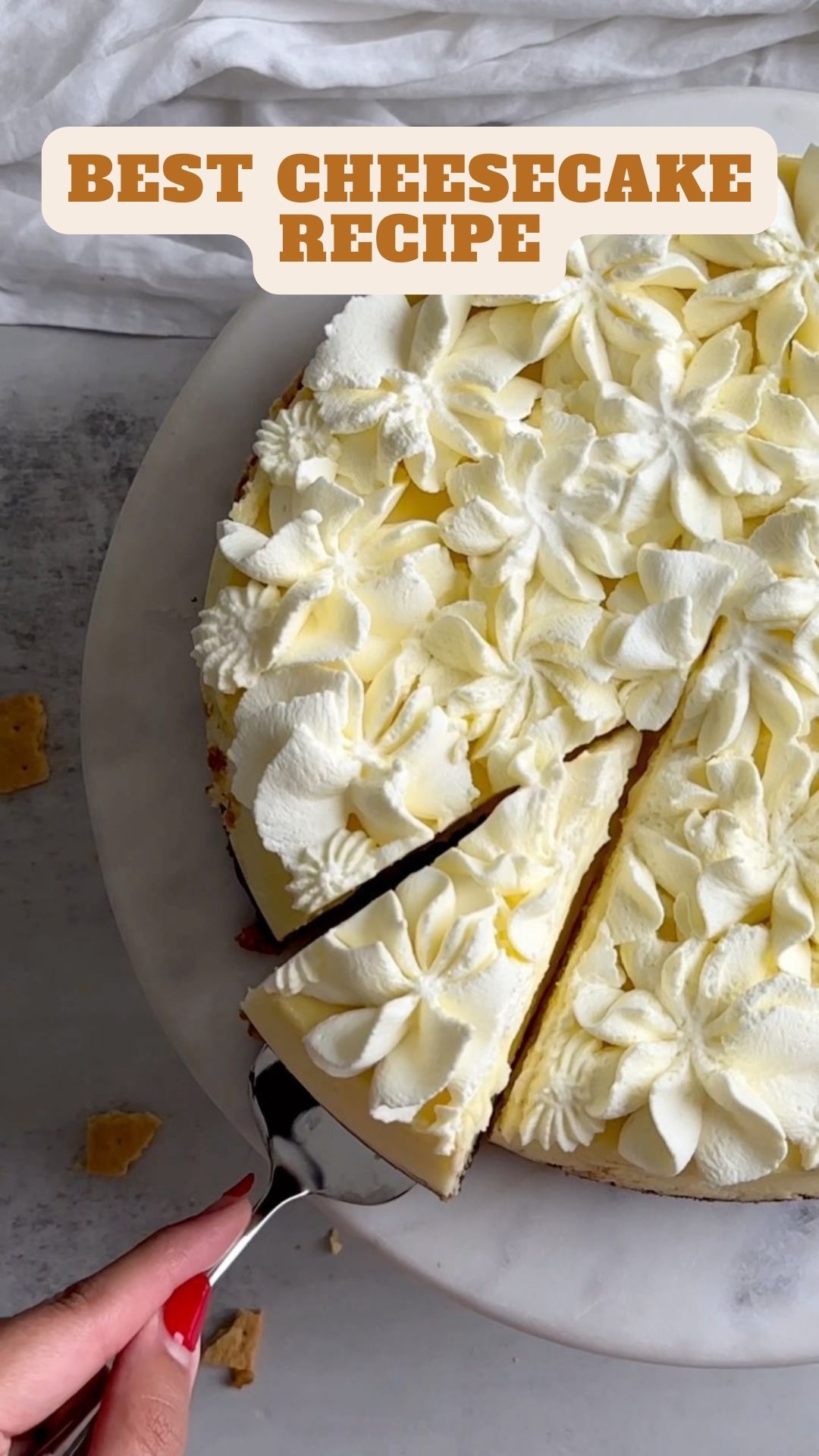 Discover the perfect recipe for a luscious and velvety classic cheesecake that will leave your taste buds delighted! Teamed up with a rich graham cracker crust, its uncomplicated decadence is impossible to resist. For optimal results, try baking it in a water bath.
Best Cheesecake Recipe
Ingredients
1 ½

cups

graham crackers

about 190g

2.5

tablespoons

sugar

⅔

cup

melted butter

75g

32

oz

cream cheese

1 ½

cups

sugar

325g

½

teaspoon

salt

1

teaspoon

vanilla extract

4

large eggs

½

cup

heavy cream

130g

1

cup

sour cream

260g

1

tablespoon

cornstarch

1-2

tablespoons

lemon juice

¾

cup

whipped cream for decoration
Instructions
Bring all your ingredients to room temperature.

Preheat your oven to 350°F.

Use a food processor to blend graham crackers, sugar, and melted butter until the mixture is wonderfully smooth.

Grease the bottom of a 9" springform pan and press in the crust mixture firmly using a measuring cup. Extend it slightly up the edges. Bake for 8-10 minutes, then reduce the oven temperature to 325°F.

For the cheesecake batter, cream the cream cheese for 3-5 minutes until it's creamy. Make sure to scrape the sides of the bowl to ensure even mixing. Add sugar, salt, and vanilla, and cream again for 3-5 minutes until well combined.

Lightly whisk the eggs in a separate bowl. Add them slowly to the batter and mix at a low speed until just combined. Be careful not to overbeat, as it can result in a spongy texture.

Incorporate the heavy cream, sour cream, and lemon juice into the batter, mixing at a low speed until just combined. Don't forget to scrape the sides of the bowl.

Gently fold in the cornstarch and pour the batter into the crust. Seal the pan tightly with aluminum foil on the outside.

Place a tray in your oven, fill it with 1-2 inches of boiling water, and position the pan in the water. Bake for 75-80 minutes without opening the oven. The cheesecake should have firm edges but a slightly jiggly center when done.

Allow it to cool at room temperature for 15 minutes. Release the springform edges, cover with foil, and cool for 2-3 hours at room temperature, followed by overnight in the fridge.

If desired, decorate with whipped cream and serve!