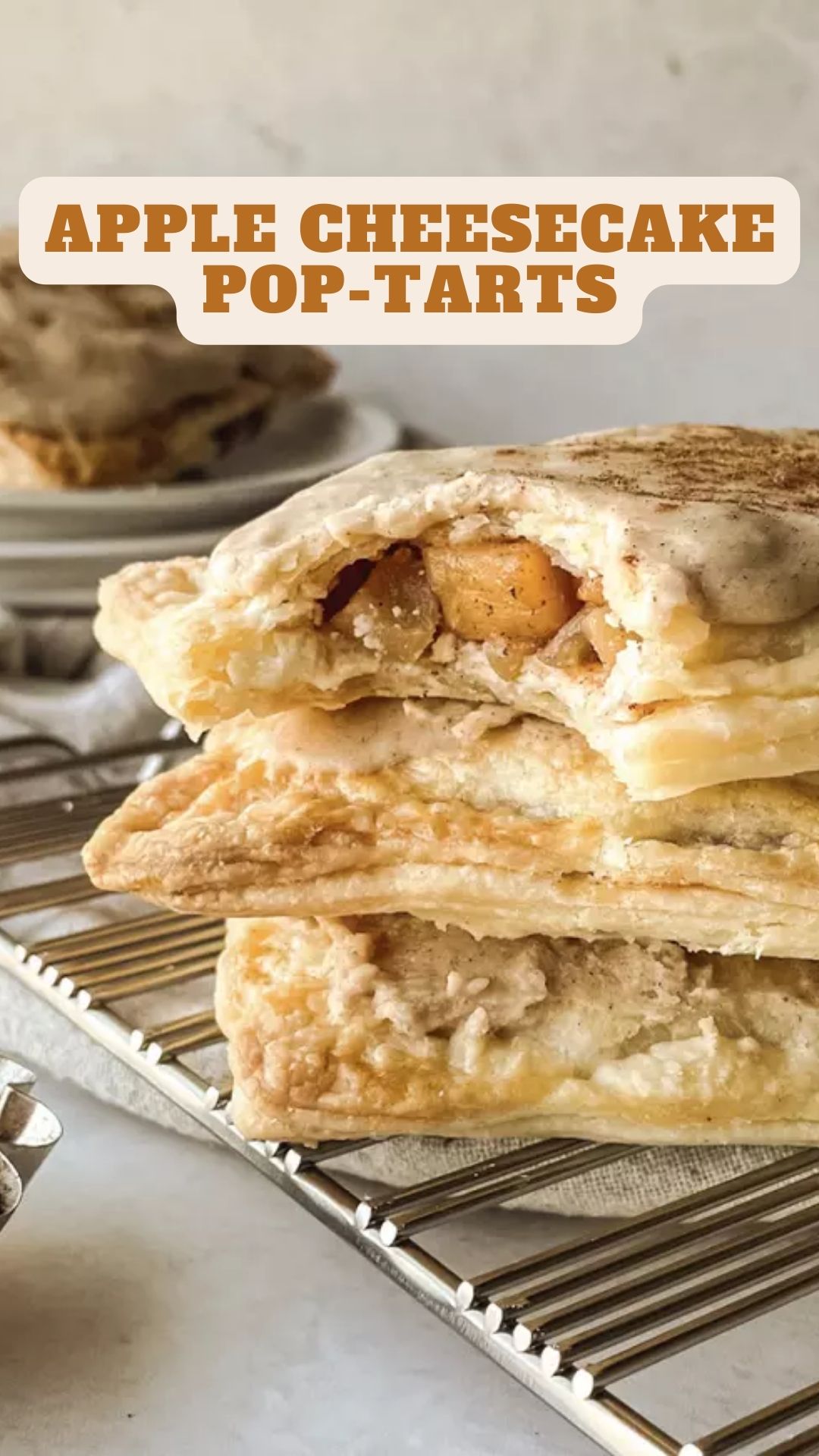 Delight in the comforting flavors of fall with these easy-to-make pop tarts! Imagine sweet, spiced apples nestled in a flaky pastry and oozing with a creamy cheesecake filling. Perfect for a leisurely breakfast, a quick afternoon snack, or a dessert that will impress.
Apple Cheesecake Pop-Tarts
Ingredients
For the Pop-Tart Pastry Dough:
– 2 ½ cups

314g all-purpose flour

– 2 teaspoons sugar

– ½ teaspoon salt

– 1 cup

2 sticks or 226g unsalted butter, cold and cut into cubes

– ¼ cup

60g ice water

– 1 large egg beaten with 1 Tablespoon water

for egg wash
For the Apple Cinnamon Filling:
– 3 medium apples

peeled and cored

– 2 Tablespoons

14g unsalted butter

– ¼ cup

56g brown sugar

– 2 Tablespoons

26g granulated sugar

– 1 Tablespoon

14g lemon juice

– 1 teaspoon cinnamon

– 2 teaspoons cornstarch

– 1 Tablespoon water
For the Cheesecake Filling:
– 8 oz

1 block or 227g cream cheese, at room temperature

– ¼ cup

28g powdered sugar

– 1 teaspoon vanilla extract
For the Cinnamon Maple Glaze:
– ¼ cup

57g butter, melted

– 1 cup

120g powdered sugar

– 1 teaspoon maple flavoring

– ½ teaspoon cinnamon

– 1-2 Tablespoons milk
Instructions
Pop-Tart Pastry:
In a food processor, combine flour, sugar, and salt. Add cold butter and pulse until the mixture resembles coarse crumbs.

Slowly drizzle in cold water while the processor is running, using only enough to form a soft dough.

Flatten the dough into a rectangle, wrap in plastic, and refrigerate for at least 2 hours or overnight.
Apple Cinnamon Filling:
Chop apples into small cubes and melt butter in a saucepan.

Add apples, sugars, lemon juice, and cinnamon. Cook until tender, about 10 minutes.

Mix cornstarch and water, then stir into the apple mixture. Remove from heat and let it cool.
Cheesecake Filling:
Use an electric mixer to blend cream cheese, powdered sugar, and vanilla until smooth. Set aside.
Assembly:
Roll out half of the chilled dough into a 10" x 12" rectangle. Cut into eight 3" x 5" rectangles.

Place on a baking sheet and spoon cream cheese filling onto half of the rectangles, leaving a border. Add apple filling, then seal with the remaining rectangles.

Refrigerate for 30 minutes, poke holes with a fork, brush with egg wash, and bake at 350°F for 25-30 minutes.

*Cinnamon Maple Glaze:*

Whisk melted butter, powdered sugar, maple flavoring, cinnamon, and milk for a spreadable consistency.

Spoon onto cooled pop-tarts and spread. Serve at room temperature and enjoy!
Notes
Pop-Tart Dough: Store in the fridge for up to 5 days or freeze for up to 3 months.
Storing: Best enjoyed the same day or store in the fridge for 2-3 days in an airtight container.