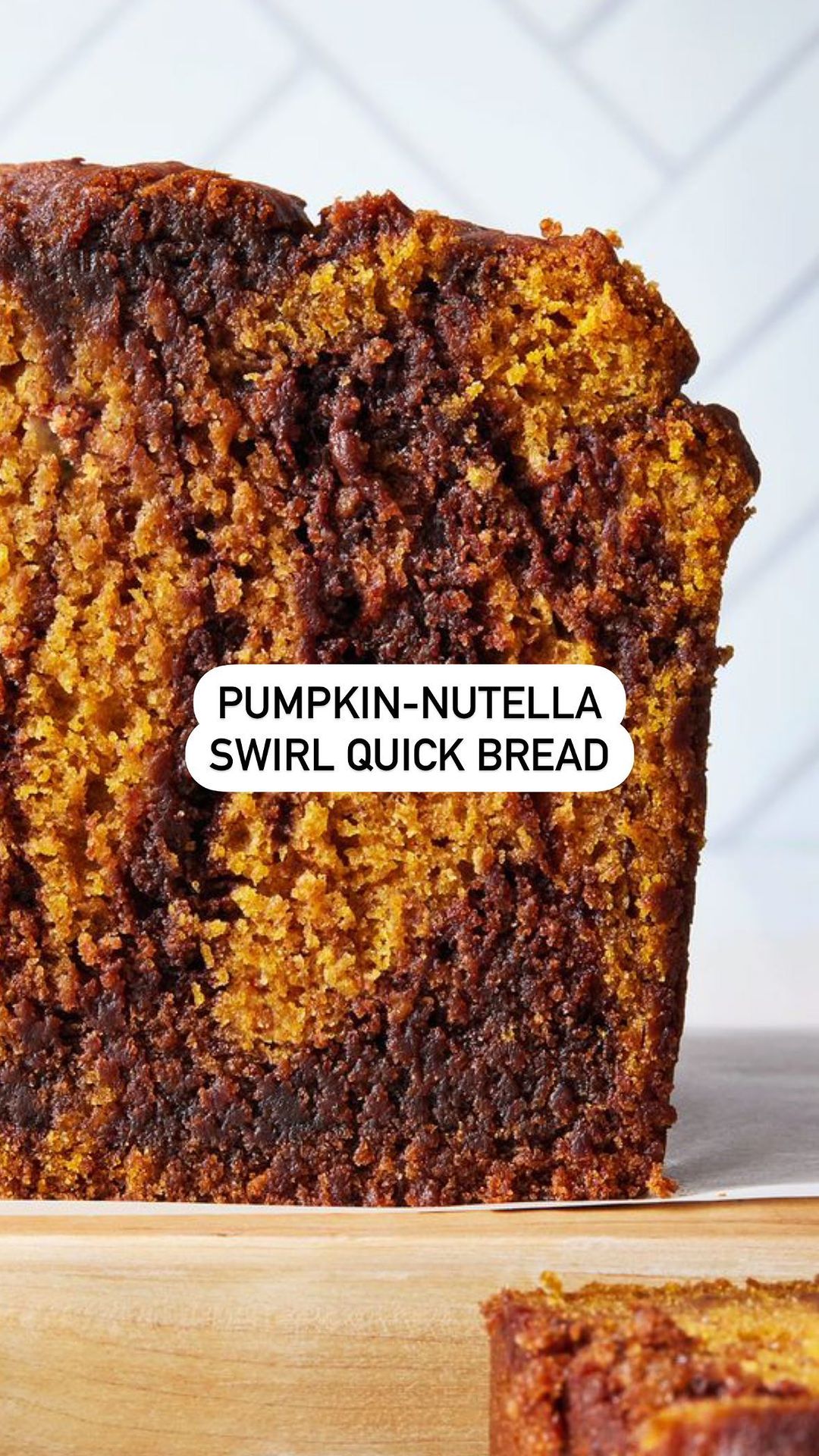 Are you a fan of pumpkin bread? It's like a cozy hug on a plate, perfect for breakfast, dessert, or a tasty afternoon treat. But guess what? We've taken it up a notch by adding a decadent swirl of the ever-popular chocolate-hazelnut spread – yes, the one and only Nutella. You've probably already enjoyed Nutella on slices of pumpkin bread, so why not mix it right into the batter?
This quick bread uses a neat trick borrowed from marble cake to create those beautiful swirled patterns. But don't worry, it's way simpler than it might seem. You only need to prepare a single batter and then gently fold Nutella into half of it.
Now, here's the best part: this bread stays moist for up to 4 days! So, if you have any leftovers (though that's a big 'if'), we recommend wrapping the whole loaf in plastic wrap and keeping it at room temperature. You can even freeze it for up to 2 months if you like.
Pumpkin-Nutella Swirl Quick Bread
Ingredients
Cooking spray

2

cups

240 grams all-purpose flour

1

teaspoon

baking soda

1

teaspoon

ground cinnamon

1

teaspoon

pumpkin pie spice

1/2

teaspoon

baking powder

1/2

teaspoon

kosher salt

2

large eggs

1

and 1/4 cups pumpkin puree

3/4

cup

150 grams granulated sugar

1/2

cup

vegetable oil

1/4

cup

buttermilk

1

teaspoon

pure vanilla extract

1/2

cup

Nutella
Instructions
Preheat your oven to 350°F and give a 9″x5″ loaf pan a light coating of cooking spray. In a medium-sized bowl, mix together the flour, baking soda, cinnamon, pumpkin pie spice, baking powder, and salt.

In a larger bowl, whisk the eggs, pumpkin puree, granulated sugar, oil, buttermilk, and vanilla until it's nice and smooth. Add the dry ingredients and gently fold them in with a rubber spatula until everything is just combined. Take 1 cup of the batter and stir in the Nutella.

Use an ice cream scoop or a measuring cup to place about 1/4 cup of the pumpkin batter in one corner of the prepared pan. Put about 1/4 cup of the Nutella batter right next to it. Keep alternating scoops of batter to cover the bottom of the pan; it will start to look like a checkerboard pattern. Repeat this process to create a second layer.

Take the end of a chopstick or a skewer, and gently drag it back and forth across the batter. Now, rotate the pan 90 degrees and do it again to create a lovely swirling pattern.

Bake the bread until a tester (toothpick or skewer) inserted into the center comes out clean, which should take around 60 to 65 minutes. Let it cool for about 15 minutes. Then, carefully remove the bread from the pan, transfer it to a wire rack, and let it cool completely. Enjoy your homemade, marbled pumpkin bread!