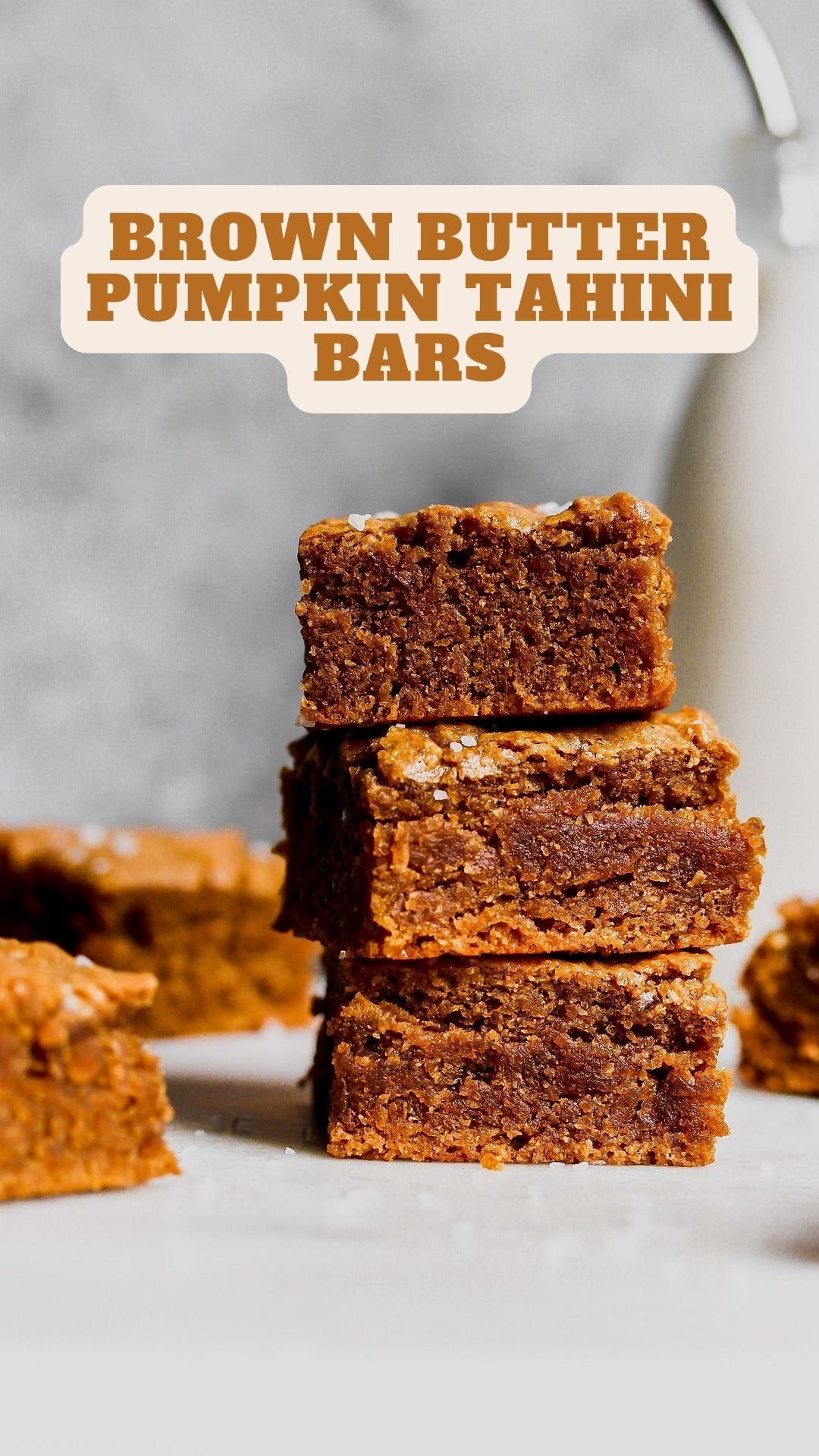 Here's a simple and delicious fall treat that I absolutely love! Imagine a fancy blondie with rich, nutty flavors, cozy spices, and surprisingly good nutrition – and the best part, it's gluten-free and made in just one bowl!
Brown Butter Pumpkin Tahini Bars
Ingredients
Cooking spray

4

tablespoons

unsalted butter

2

large eggs

1/2

cup

tahini

1/4

cup

pumpkin puree

1

cup

coconut sugar

2

cups

almond flour

1

tablespoon

pumpkin pie spice

1/2

teaspoon

baking powder

1/2

teaspoon

kosher salt

plus extra flaky sea salt for sprinkling if you like
Instructions
Preheat the oven to 350°F. Line an 8×8 baking pan with parchment paper and give it a quick spray with cooking spray.

Melt the butter in a small saucepan over medium-low heat until it's foamy and starting to brown on the bottom (about 5 minutes). Remove from heat, cool for 10 minutes.

In a large bowl, mix together eggs, tahini, pumpkin puree, and coconut sugar. Slowly pour in the cooled brown butter, stirring constantly until well combined.

Add almond flour, pumpkin pie spice, baking powder, and salt; mix until you have a smooth batter.

Pour the batter into the prepared baking pan and bake at 350°F for 24 to 27 minutes or until a toothpick inserted in the center comes out mostly clean. If you want, sprinkle some flaky sea salt on top.

Allow it to cool for 15 minutes in the pan. Then, take it out and let it cool completely before slicing it into 16 squares.
Notes
Keep these treats in an airtight container at room temperature for up to 3 days. After that, refrigerate to keep them fresh. Enjoy!